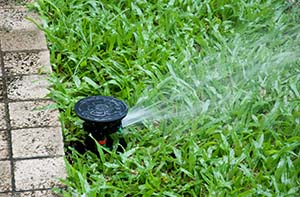 Green Head Turf can handle your sprinkler repairs and winterization in Olathe and the surrounding areas. Our sprinkler staff has over twenty years of experience dealing with those pesky sprinkler systems.
We handle it all from spring activation to winter blow out service. Split pipes or cracked heads can result in leaking and leaks can cost a lot on your monthly water bill.
We suggest to all of our clients that they walk their yard every few days just to catch any problems that may occur.
If you suspect a problem, give us a call and we'll send one of our irrigation specialists to check it out. We even offer a regular maintenance program during the summer months to ensure your system is operating at its very best and saving you money with reduced water bills.
Whether your home is in Overland Park, Olathe, or Lenexa, we have the entire area covered for sprinkler service.
Sprinkler Activation For The Spring

Over the winter, damage can happen to your sprinkler system. Freezing and thawing ground can crack or loosen piping and cause sprinkler heads to become brittle and vulnerable.
When Green Head Turf starts up your sprinkler system, we will do a thorough check of your system to make sure everything is in perfect working order for the season ahead.
Get Ready for Cold With Sprinkler Winterization
Your sprinkler system is an investment and you don't want to take chances when it comes to winterizing it. Make sure it's blown out professionally so that no water is left in the pipes to freeze and cause them to burst.
Give us a call and we will blow it out with a high pressure blower to ensure all water is gone before the temperature drops.
Sprinkler Repair and Service For Your Olathe Area Home

Leaking sprinkler systems make a mess of your lawn, threaten nearby trees and shrubs with over watering and waste water causing high water bills. If you notice a problem with your sprinkler system, give us a call.
Our sprinkler technicians are familiar with all brands of sprinkler systems and can repair them all. Whether it's a malfunctioning sprinkler head or a leaking pipe, we can fix it fast.