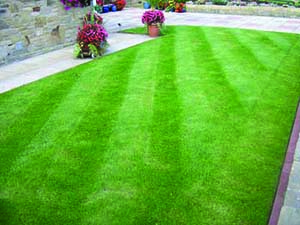 What makes Green Head Turf Stand Apart for the other lawn services in Johnson County?
Great question. Brian Langdon, founding member of Green Head Turf Systems, believes that there is far more to the art of growing a healthy stand of turf than just throwing some fertilizer down and calling it a day. To truly achieve the lawn of envy, the soil must be thought of as the key ingredient Through extensive research Brian had developed a 7 step program tailored to the unique soil in the Johnson county Ks area.
How is the 7 step program Different?
The answer is simple. We believe the soil is the key to a health lawn. By incorporating environmentally friendly products such as Hydro Hume and Humic Acid (no its not a harmful "acid") now you may be wondering what these products do for my lawn. Well the answer to that question is a long one. To keep it simple: roots, roots, roots. These products help other macronutrients to bind to out turf roots. This helps with the uptake of water, exchange of gasses with in the root zone and of course nurturant up take. These products also have the added benefit of helping to over time break down out heavy clay soils by improving the CEC (cation exchange capacity) of our soil.
SEVEN STEP PROGRAM

ROUND ONE
Applied in the very early spring. The goal is to provide a well-balanced fertilizer to help bring the turf out of dormancy in a controlled fashion while promoting healthy root growth. It includes a broad spectrum pre-emergent to prevent weeds.

ROUND TWO
Applied April-may. This round is the first application of Hydro Hume to the soil. Combined with a well balanced granular fertilizer coated with Hydro Hume this application will help the grass really turn a deep shade of green, while at the same time the below ground freeing up nutrients present with in the soil previous locked out to our turf plant. We also spot spray any broad leaf weeds at this time. The application of Hydro Hume is one of the unique ways Green Head Turf makes a big difference in your lawn.

ROUND THREE
Applied from mid June through July. Temperatures are beginning to climb and this can be the beginning of a very stressful period for your lawn. This application has a low nitrogen rate to reduce the possibility of such diseases as dollar spot and brown patch. Once again we will also spot treat for broad leaf weeds as needed.

ROUND FOUR
Applied from mid June through July. Perhaps the most important weapon in the offensive arsenal, this round will attack and kill any grubs or other harmful insects living in the soil. Equally important, it will also lay down a protective layer to prevent future infestation that season.

ROUND FIVE
Mid summer application. This is application is what separates Green Head Turf Apart from the rest of the pack. This application is applied mid July-August. This is a spray application of Humic Acid to the Lawn. This product will help to break down the clay soil, help micronutrients bind to the root systems, help water up take of the plant and boost the color of the plant in a time of stress for the plant. We will also spot spray any broadleaf weeds at this time The end result is a thicker, more robust stand of turf.

ROUND SIX
Applied from late August through September. The trees are about to start turning colors and your lawn is hungry. At this time of the year it is very important to provide a slow-release nitrogen fertilizer to help your lawn recover from any stress that it might have endured during the long, hot, and humid Olathe summer months. This application also maintains the root growth that has been established during prior treatments. We also provide just a little shot of iron to help green up the lawn.

ROUND SEVEN
Applied October through November. With winter upon us, this application is all nitrogen in a slow-release formula to help your lawn through the freezing and thawing cycles ahead.
Money Back Guarantee
When it comes to lawn care, Olathe area residents can count on the experienced professionals at Green Head Turf Systems LLC. We know you will enjoy the benefits of being a part of the Green Head family. You can take pride in your lawn without worry. If for any reason you are not satisfied with the results give us a call and we'll make you happy. We guarantee it or your money back.